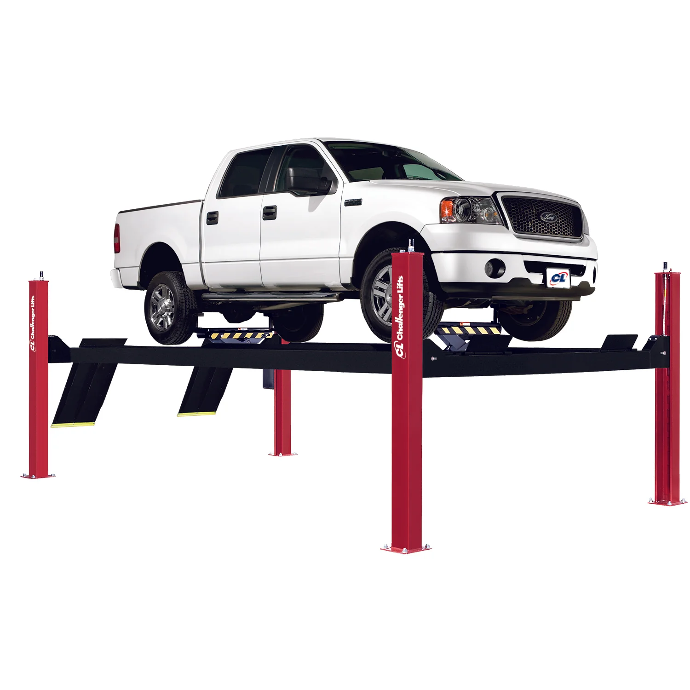 Challenger 4P14
Challenger's 14,000 lb. closed-front drive-on 4-post lift features a low approach angle and wide runways for easy approach. It also has one of the highest rise in the industry and durable column construction. We designed the 4P14 for versatility, with louvered approach ramps as well as in two lengths. A range of optional accessories can help you accommodate just about anything that comes in for service.
ALI/ETL certified.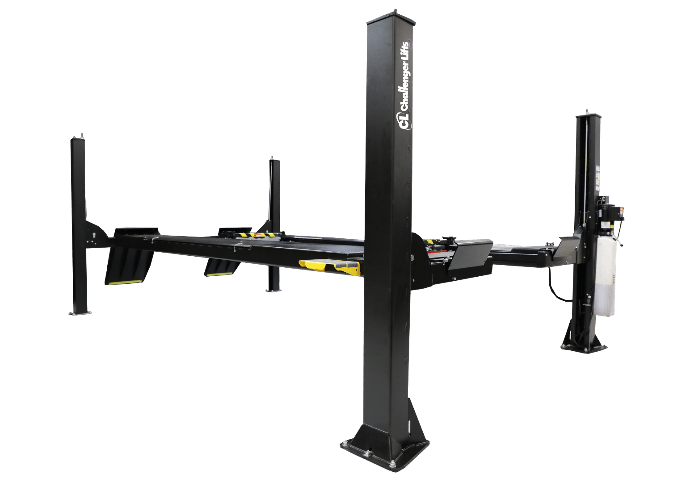 Challenger 4115
Designed with productivity and safety in mind, our newly improved 15,000 lb 4-Post Lift would be a great addition to any shop floor. With several configurations available, you're sure to find the lift to meet your needs.
Increase your customer base with this lift as it can accommodate and service a wide range of vehicles. Anything from a small passenger car to a medium-duty truck, and even medium-sized vans. All while boosting workplace safety with our open front design, assisting technicians moving around a vehicle's frame.
Also available is our Galvanized Coating Upgrade. This will upgrade the runways, jack rails, turn plate pockets & slip plate pockets to a galvanized coating to greatly extend the life of your 4115 Lift.
ALI/ETL certified.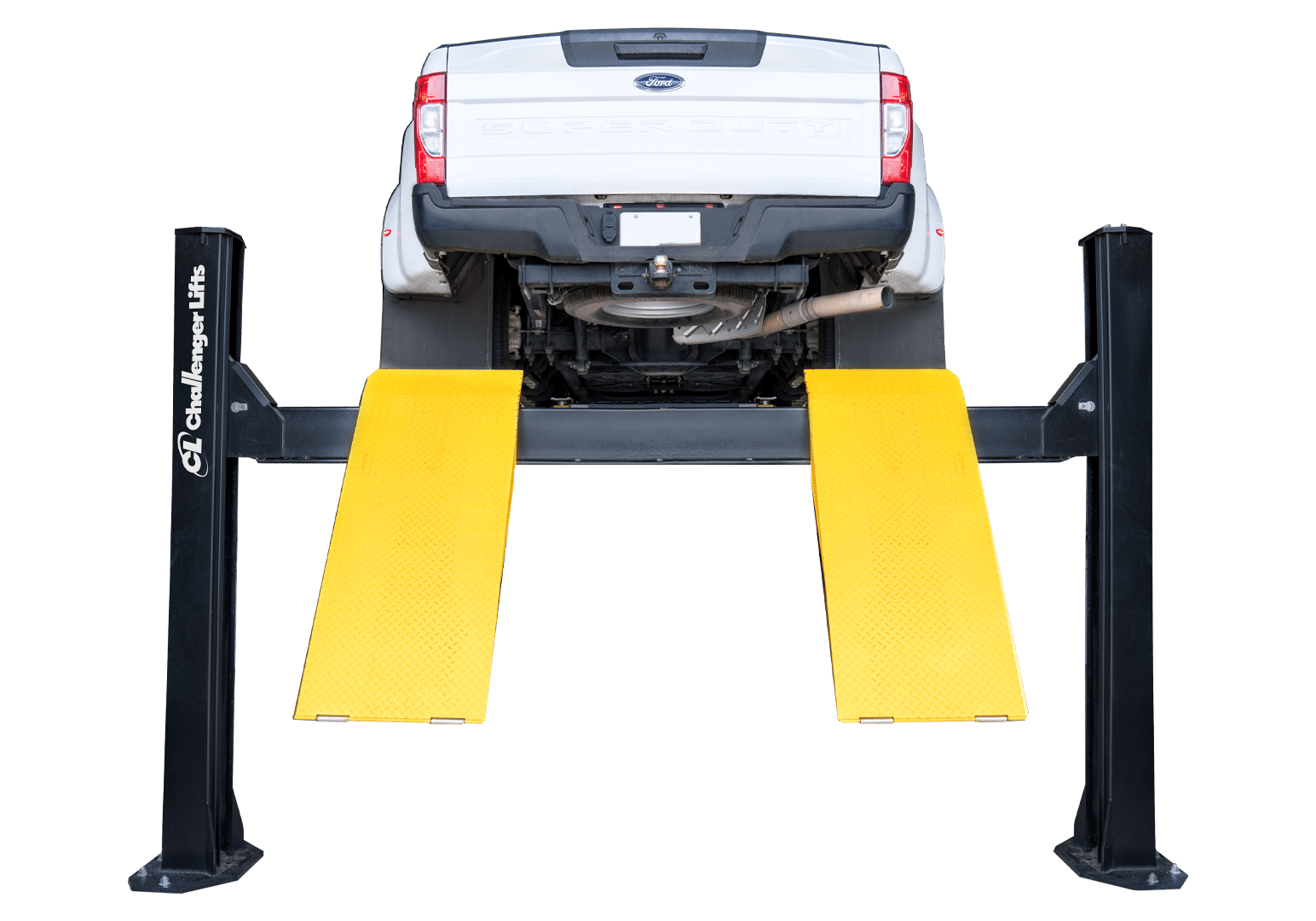 Challenger 4018
This ALI® Certified Flat Deck 4-Post Lift is a perfect fit for shops servicing vehicles up to 18,000 lbs.
It features a proven cable design, a single-point mechanical lock release, and 24" wide runways.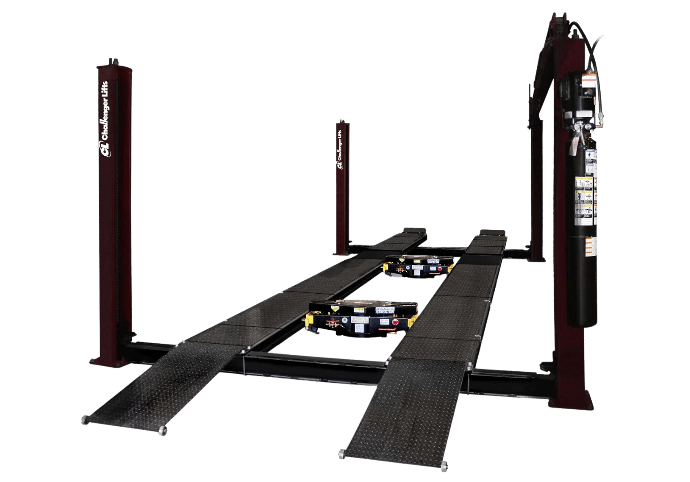 Challenger 44018
Challenger's 44018 4-post car lift boasts an impressive 18,000 lb. lift capacity, perfect for the toughest challenges in your automotive shop. With a maximum wheelbase range of 194″ to 236″, this lift can easily accommodate a variety of medium-sized transit vehicles. With single-point air-actuated lock release, disengaging column locks is a breeze, particularly with our alignment model. These features make this lift incredibly convenient and easy to use, saving you valuable time and effort. The diamond-plate approach ramps offer positive vehicle traction, ensuring the safety and stability of every vehicle you work on. The adjustable runways can accommodate a wide range of tread widths, making this lift even more versatile and adaptable to your specific needs. For added convenience, the approach ramps feature heavy-duty steel roller wheels, allowing for easy positioning of vehicles onto the lift. And with black columns only, this lift is functional but also sleek and stylish. But the fundamental standout feature of this lift is its built-in runway rail system. This innovative design allows you to add extra convenience options like rolling jacks and oil drain pans (sold separately) with ease, making this lift a genuinely versatile and essential tool for any automotive shop.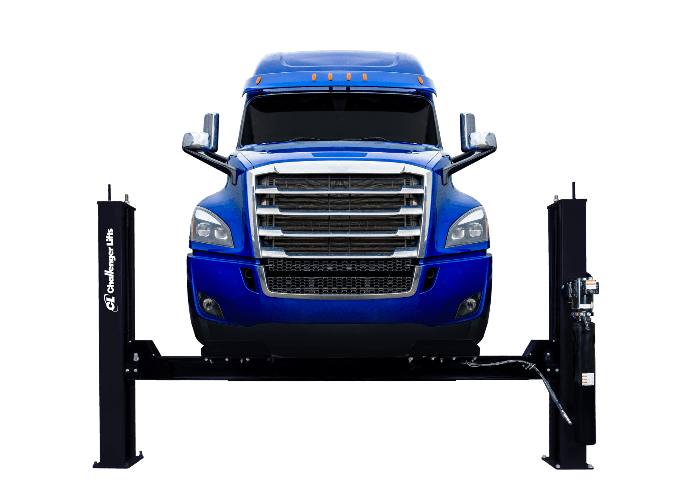 Challenger 4030
Challenger engineered our 30,000 lb. capacity 4-post 4030 series lift with safety and durability in mind. We also integrated our time-proven cable-driven lift system with heavy-duty steel sheaves and cables for optimal performance. A single-point air actuated lock release makes these lifts simple to use. Choose between general service or alignment deck models as well as three lengths to fit your shop's needs. We also offer a range of optional accessories.
ALI/ETL certified.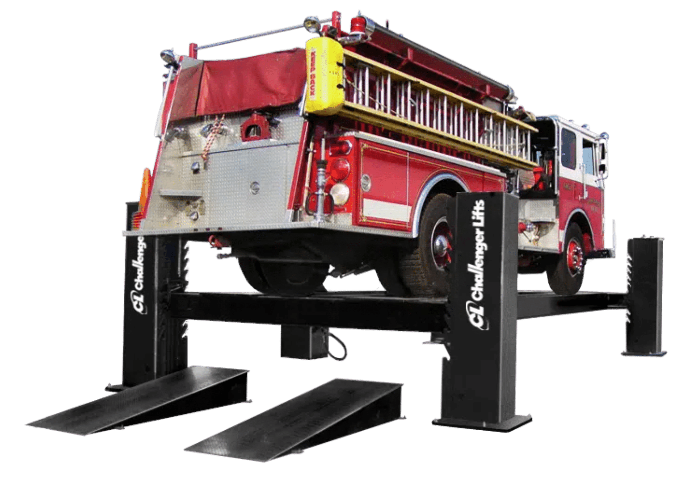 Challenger Heavy Duty
We designed our 30,000 lb. to 60,000 lb. lifts as an economic high capacity lifting solution in a traditional 4-post design. Diamond plated anti-skid runways and ramps provide for positive vehicle traction. The synchro-power system has dual heavy-duty lift cylinders as well as lever controls, which provide variable or synchronous power to the front and/or rear suspension of the lift, making it perfect for lifting large axle vehicles with heavier front or rear ends, including waste trucks and other construction trucks.