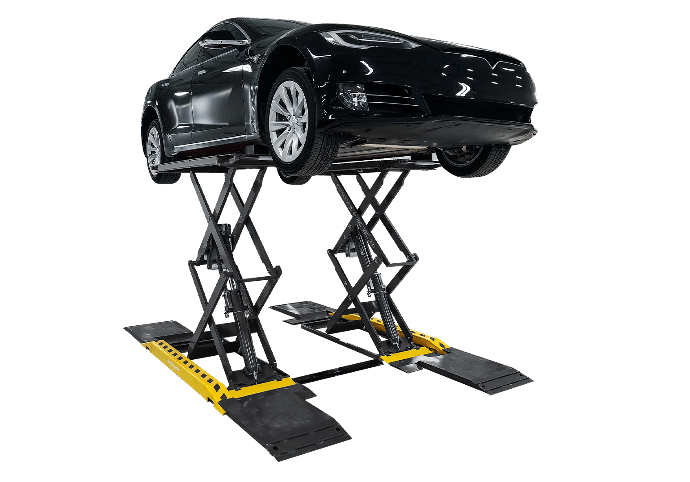 Challenger DX77
Challenger engineered our 7,700 lb. capacity scissor lift with efficiency and productivity in mind. Our DX77 can easily lift all makes and models (within rated capacity) with a synchronized hydraulic system. The DX77 also offers free access all around the lifted vehicle and between platforms, with a cross-member free design providing an uncluttered and hazard-free work area. Choose to mount the DX77 either above ground or flush.
ALI/ETL certified.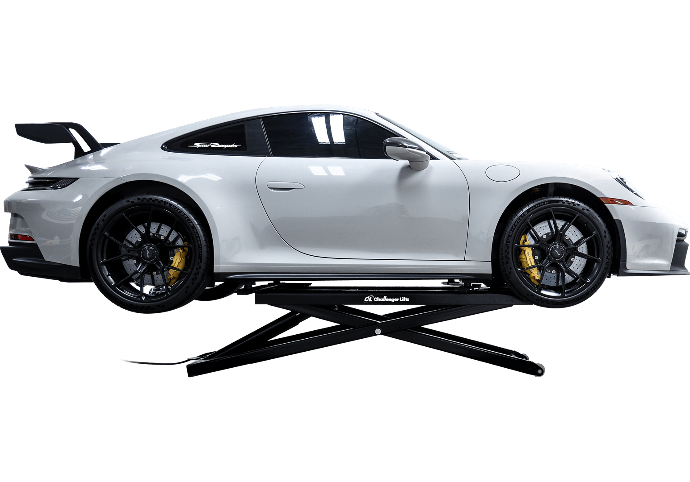 Challenger MR6
Challenger's midrise lift is a great way to increase the productivity of any shop. We mounted the motor to a heavy-duty tow dolly, making it portable and able to operate on concrete, indoors, or out. Save valuable shop space while servicing brakes, tires or detailing a vehicle's exterior. The 6,000 lb. capacity will lift vehicles from small passenger cars to light trucks.
Includes auxiliary adapters to reach a more comprehensive range of vehicle lift points. Exclusive features include a sliding/rotating arm design with rubber pads, low drive-over clearance, and more.
Photo courtesy of: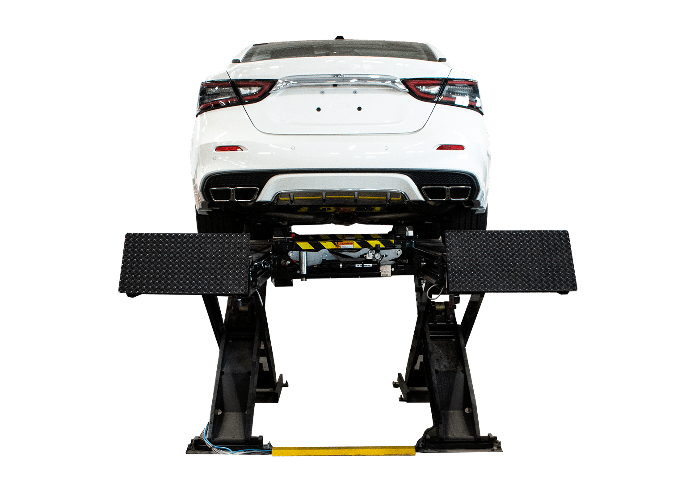 Challenger SX14
Challenger SX14 series scissor lifts are easy to operate and load. Adjustable turn plates allow for a wider range of wheelbase alignments. The SX14 features LED lighting, single locking point rear slip plates, photo cell to ensure runway synchronization and optional extended ramps that accommodate low-clearance vehicles. These alignment racks are available in flush or surface-mounted models. Kit includes the lift, two rolling jacks, adjustable turn plates, and an airline kit for dual jack operation.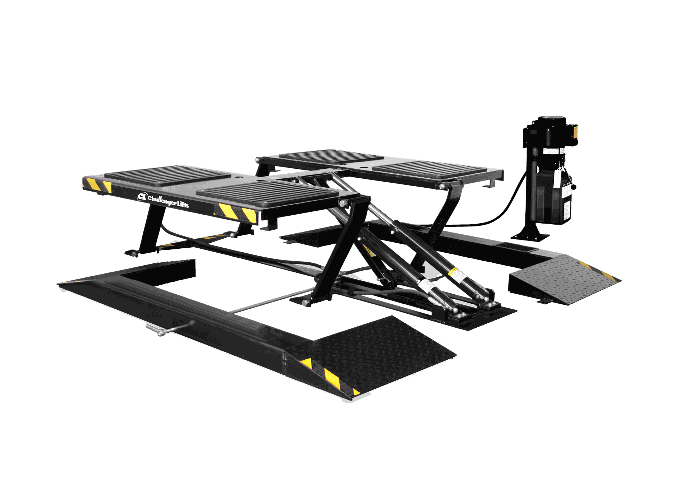 Challenger SRM10
Challenger's shortrise lift is a great choice for brake and tire servicing needs. Dual hydraulic cylinders provide a 10,000 lb. capacity to lift vehicles ranging from small passenger cars to light trucks. Standard spotting blocks and optional auxiliary adapters reach an even wider range of vehicle lift point
Challengers SRM10 Short Rise car lift boasts a remarkable 10,000 lb. lift capacity, allowing you to easily lift a wide range of vehicles with ease. With a raised height of 22 inches, this lift is perfect for servicing trucks, SUVs, and other larger vehicles. Featuring standard two-position spotting blocks, this lift reaches pickup points on a wider range of vehicles, making it a versatile addition to any auto repair shop or home garage. The three locking positions add to the ease of use when lifting and lowering your vehicle, ensuring a smooth and stable operation every time. The powder-coated finish on this lift provides long-lasting durability, withstanding even the most rigorous of environments. It also gives a sleek, professional look to any workspace. Furthermore, the lift can be mounted flush for added convenience and space-saving. Upgrade your workshop or garage to the next level with Challenger's exceptional short rise car lift – designed with both performance and style in mind. Experience the ease and efficiency of working on your vehicles.
ALI/ETL certified.